Troy Medicare raised at $25M-$30M valuation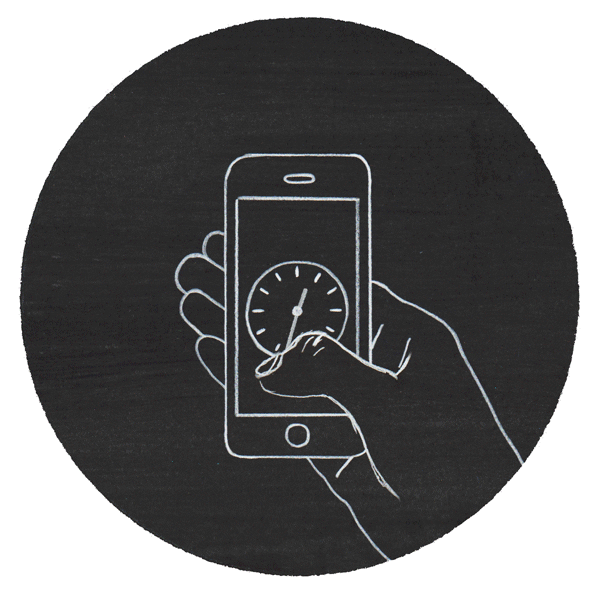 Do employees care about stock options?
In the process of putting together this newsletter, I reach out to and hear from many founders. One thing that I've noticed is that more companies than expected are remote-friendly and willing to offer equity to remote hires. So, I launched a sister newsletter aimed at featuring remote roles with equity at early-stage startups. Over the past the week, the newsletter has added 1k+ new sign ups organically. But it was unclear to me whether those new sign ups were driven by people interested in 1) remote positions, 2) equity positions, or 3) remote+equity positions.
So, I turned to Reddit to gather feedback on whether receiving equity (via an ESOP or some other plan) is viewed as an incentive to join an early-stage startup (you can view the threads here and here). Overwhelming answer: meh!
Several people referred to equity via an employee pool as a kin to playing the lottery. There may be some "anti-survivorship bias" at play here (several commenters noted that they worked for startups where the equity ended being worthless), but the level of consistency in the responses is notable.
In my mind, one of the main reasons to join an early-stage startup as an employee is to have exposure to the upside if things take off. But, I think it's clear that there are things that could be improved with equity issued to employees (longer windows to exercise options, policy change on when employees are taxed).
This recent HBR post by Steve Blank tackles the topic ('How to Make Startup Stock Options a Better Deal for Employees'). Blank writes:
Investors and founders have changed the model to their advantage, but no one has changed the model for employees. Moving the liquidity goal posts may have removed the incentive for non-founders to want to work in a startup versus a large company. Stock options with four-year vesting period are no longer a good match for employees when it may take 10 to 12 years for the company to go public or be acquired.
The piece concludes with a call for a new incentive model: Restricted Stock Agreements (RSAs) for early hires and Restricted Stock Units (RSUs) for everyone else. Based on the redditors willing to talk openly and at length in both threads, it might be time for something like this.
It's clear that VCs have asymmetric power in their relationship with founders and employees. But if employees don't value the thing that's meant to incentivize them to stick around and work hard, doesn't that ultimately hurt everyone involved?
But there should also just be a sense of fairness for all employees. Whether they're working in-house or remote, they should be rewarded for their efforts, if and when there's ever a liquidity event. Which isn't a given.
Final thought goes to Naval: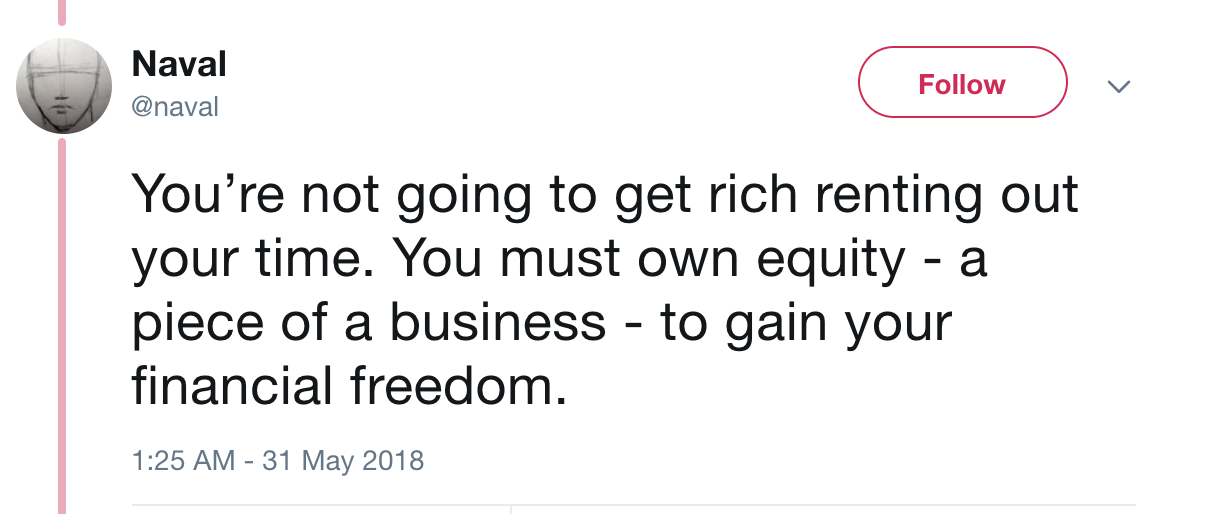 ---
Couple bits of housekeeping:
The Memo: the recently launched newsletter that features remote roles with equity at early-stage start-ups has added over 1k sign ups in the past week, and has a few handfuls of paying subscribers. Email me if you're interested.

Support the newsletter by sharing with your colleagues or by becoming a paying subscriber.
Cheers!
Chris ✌️
---
Recent Startup Funding Announcements 💰
Troy Medicare, a Charlotte, North Carolina-based licensed health insurance startup, raised its recent $5M Series A round at a valuation between $25M-$30M, according to Flaviu Simihaian, CEO. The company spoke with over 200 investors for the round and has known the investors in the round (undisclosed) for a year. To date, the company has raised a total of $5M (Crunchbase had $6.2M). Troy Medicare is planning to launch in 5 counties in North Carolina in 2019, with the goal of signing up 1,500 seniors.
Macro trend
The trend currently is towards more local healthcare. We see more doctors deciding to go out on their own, and we see consumers more knowledgeable and empowered than ever to make complex healthcare decisions. We believe we are perfectly positioned to take advantage of these trends.

Our competition is Aetna, Humana, United Healthcare, and BlueCross Blue Shield of North Carolina. However, we are the first health insurance startup to focus on the local independent pharmacy as the quarter-back of healthcare. We believe healthcare is local and that is our advantage against the big health insurance companies that run our healthcare system.
Soma, a Helsinki-based blockchain-based social marketplace startup for watch enthusiasts and merchants, raised its recent €1.1M bridge funding round at a valuation between $5M-$10M, according to Jukka Hilmola, co-founder and CEO. The company raised capital from Finnish angel investors together with a government portion; as the round was raised from the existing investors, no term sheets were circulated externally. To date, Soma has raised approximately $2M. The company has known investors in the round for years (but Hilmola does not consider it to be a prerequisite to raising capital, citing knowledge of entrepreneurs that raised in their first meeting with investors). Capital raised will be used to find product/market fit, generating revenue, and building a team capable of scaling.
Macro trend
This industry is currently going through a phase where we see an upward trend in overall interest in watches. Watch collecting is gaining popularity globally and you can see a phenomenon where people get together to discuss watches and their collections. This phenomenon is happening in the digital environment (i.e Facebook groups) and physically in local clubs or restaurants.
Odaseva, a San Francisco-based cloud data management platform for enterprises running critical business applications in the cloud, will look to use capital from its recent $11.7M Series A round to expanding geographically (beyond North America and Europe) and to go after the biggest global customers, according to Sovan Bin, Chief Executive Officer & Founder. The company knew Partech, the lead investor in the round, for 2-3 years prior (Odaseva and Partech both have offices in France and San Francisco). To date, the company has raised $14M and approximately 3 million Salesforce customers are using Odaseva. Capital from the round will help Odaseva accelerate its go-to-market strategy and build relationships with global customers, which include General Electric, Heineken, Orange Bank, Robert Half, Schneider Electric and Toyota.
Macro trends
Regulations like GDPR are forcing companies to look at data protection holistically.

GDPR has defined the industry and doesn't just include data protection but also spans the gamut from DRaaS to back-up to managing new data rights such as the right to have personal data deleted. Data protection is not just backup but also global data governance now.

Another trend is the amount and complexity of regulations out there. It seems as though new regulations are popping up in every corner of the world -- data protection for states, companies, non-profits – every level of global society, and we are seeing that not protecting your customer data is not just a technical risk but a financial and reputation risk. The way you protect your data defines your organization and your brand.
AppSheet, a Seattle-based no-code application platform, was introduced to the lead investor (Shasta Ventures) of its recent $15M Series A round over the course of the past 6 months, according to Praveen Seshadri, founder and CEO. To date, the company has raised roughly $19M.
On raising capital
On the one hand, I could say I'd love to have finished it in one day. But at least for me, there was a lot of learning in the process. I met people in the VC community. The best VCs are savvy, experienced and willing to give you feedback. I learned from each of them even when they decided not to invest, and some of them may decide to invest in the future. When Shasta and NEA pursued the investment, I learned a lot from their diligent process, in terms of how they looked at our business. And it also shines a spotlight on every flaw and weakness in your business, which forced me to understand and think about it.
Macro trend
While "software is eating the world," there is extreme disparity in the distribution of software engineers and therefore in the ability for all but the biggest businesses to create software and automate processes. AppSheet is disrupting this inefficient system by empowering every business at every scale to innovate rapidly without having to hire a software engineer.   
MotoRefi, an Arlington, Virgina-based auto refinance startup for consumers to save on their auto loan, received multiple term sheets for its recent $4.7M round, according to Kevin Bennett, CEO. On the process of raising capital, Bennett notes that he "found it to be less about converting skeptics than about finding kindred spirits who share the same vision." Ryan Moore, co-founder of Accomplice, led the round.
Macro trend
We've seen that Americans are taking out larger car payments than years past, and that consumers often don't get the best deal on their loan when they initially purchase the car. It's our goal to help customers find refinance offers that are a better financial fit, with a lower interest rate, lower car payment, or both. On average, our customers save $100 on their monthly car payment with they refinance with MotoRefi, and they can check their rates with no impact to their credit.
Embark Veterinary, a Boston-based dog DNA testing company, received multiple term sheets after talking to about two dozen investors for its recent $10M Series A round, according to Ryan Boyko, CEO. With the recent capital raise, the company is focused on growing the core business and is looking to improve the care of over a million dogs.
Macro trend
Personalized medicine is coming to dogs, and we will be at the forefront of providing evidence-based improvements for dogs' care.
Curtail, a Santa Barbara-based network traffic analysis solution and continuous security tool provider, recently raised $3.25M in funding. Curtail CEO, Frank Huerta, has known, Chris Kane of Tarus Capital (lead investor) for 27 years and recently reconnected with their business school reunion in September. On the competitive landscape, Huerta notes that "the classic security and QA folks out there are going after similar markets, but we're taking a singular approach in the DevSecOps space to reimagine and improve computing in the cloud."
Macro trend
Cloud, containerization, DevSecOps and the move to continuous integration/continuous delivery (CI/CD) are some of the most significant trends we see and that aren't going away. These all play into what we're doing in the DevOps space as we work to help teams mitigate the risk of unplanned downtime by changing the way IT is done for government agencies, financial institutions, service providers and enterprise organizations that are developing and launching new software and services
Nabis, an Oakland-based distributor of cannabis products to licensed businesses in California, recently raised $4M second round of funding. The company had roughly a 60% close rate for investors, however several investors also participated in the company's last round, according to Vincent Ning, CEO. Nabis did not have a lead investor for the round. To date, the company has raised $5.25M.
Competitive landscape
Our competitors are other licensed distributors, but in a way, we stand alone in market positioning as the largest independent distributor in California. Other distribution companies that may be larger are verticalized and own their own brands, so it's hard for cannabis brands to work with them due to conflicts of interest where brands feel as though they are competing with their those distributors' products.
Macro trends
In terms of macro trends, they primarily fall into the categories of regulations, banking, and capital. The improving landscape of the cannabis regulatory landscape will allow more cannabis companies to exist, and as a true 3rd-party distribution company, we'll be able to capitalize on the growth in number of new brands that come to market. Next, as cannabis progresses closer to federal legalization, major banks will allow cannabis businesses to bank with them, allowing better financial infrastructure for electronic payment processing that will digitize the industry further. This all then leads to more investor capital flowing into the cannabis space, from larger and larger institutions, providing more access to growth stage capital for current cannabis businesses to expand beyond what they've currently been able to.
---
Was this forwarded to you? Please sign up here.